As well as being busy with undertaking dozens of emergency roller shutter repairs over the last few weeks, we've also been installing brand new roller shutter doors. One of our very latest roller shutter installations was at a local Londis in Kirkham. Our professional and friendly team were called out just last week to fit and install a brand new aluminium roller shutter door for the Londis. This was a complete and thorough installation with remote control and key fobs fully connected for the main keyholders. For more information, please call us today on 01204 402585.
From start to finish, we were on site for just 2 hours. Another property fully secured in Kirkham and another happy customer that decided to leave us a 5-star review! Roller shutters are an absolute must for the likes of Londis supermarkets as they help to increase security, privacy, and deter potential vandals and burglars. As you can see from the below images, the brand new aluminium roller shutter has been professionally installed and our team fully checked the remote operation before completing the installation, as well as showing the customer a demonstration of how to easily open and close the shutter for increased convenience.
Although this latest installation was completed in Kirkham, we have completed dozens of installations throughout The North West, and further afield, for Londis stores. Another great benefit of roller shutters for supermarkets and stores is that you will gain full control over your environment's temperature and insulation coming in and out of your store.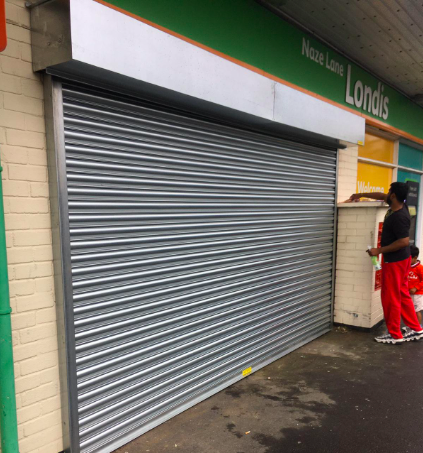 Why Choose UK Doors & Shutters?
Here at UK Doors & Shutters, we have years of experience when it comes to installing new roller shutter door for supermarkets and local stores, such as Londis. Other types of stores we have experience installing roller shutters for include; Aldi, Lidl, Tesco & ASDA. All our fitters/engineers are trained to a high standard so you can expect only the best installation and professional service from our team at UK Doors & Shutters. Moreover, we are proud to be a 5-star team and offer FREE no-obligation quotations on request.
Contact UK Doors & Shutters
Looking for a roller shutter door installation for your business or store? If so, we would love to hear from you today and get the process started. Get in touch with us today by calling us now on 01204 402585. Alternatively, if you prefer to email, use our online contact form and we'll get back to you as soon as possible.