This week, we attended another emergency call-out for one of our lovely customers in Manchester. The owner of Pope Dental got in touch with us when they realised that their roller shutter won't open properly. As you can imagine, this caused stress to the customer and slowed down business.

Not for long though, as our team has engineers located around the North West and can always provide a prompt response. The engineers who attended Pope Dental started the repair straight away by putting a link in the keyswitch to reset the limits. This was effective and we got the door working again in no time at a competitive price!
Looking for a company that can provide 24/7 emergency roller shutter repairs? Get in touch by calling us now directly on 01204 402585.
As you can imagine, the issues with the roller shutter caused stressed for the business owner and associates of the dental practice as they were due to open up and see patients at a certain time. The business sees a number of patients at their practice and they were worried that last-minute cancellations would have to be made. Fortunately, this wasn't needed thanks to our friendly and professional team at UK Doors & Shutters.
Our team of local engineers arrived at the dental practice within less than an hour of the initial call and we go to work straight away. It was clear that the top of the shutters had been caught and were refusing to comply. We sorted it in no time though!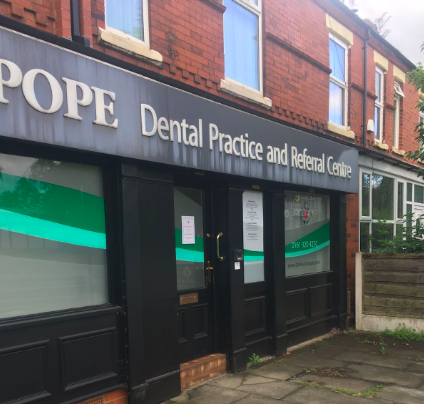 Why Choose UK Doors & Shutters?
It was a pleasure to help yet another business in Denton, Manchester to resume business proceedings and best protect their premises by ensuring their first line of protection (the roller shutter!) was properly working as effectively as it should. UK Doors & Shutters are able to provide emergency roller shutter repairs for dental practices - just like our very latest job - and a number of other commercial premises such as warehouses, factories, industrial premises, shops, and supermarkets.
Contact UK Doors & Shutters
UK Doors & Shutters are just a phone call away from dealing with your query. We know that time is money in business which is why we over 24/7 emergency roller shutter repairs. Whether you need us day or night, you can be sure that we'll be of service. Get in touch with us immediately to arrange your call-out on 01204 402585. If it's not an emergency, you can use our contact form.