Did you know that UK Doors & Shutters are able to install residential roller shutters, as well a commercial? If you didn't, you do now. Over the last week or so, we had the privilege of installing a brand new residential roller shutter for a lovely customer of ours based in Liverpool. Their existing door to their garage was a timber-type door that was beginning to rot and become unsightly. Our professional team consulted with the customer and we eventually decided on a more secure, long-lasting roller shutter! Get in touch with us today on 01204 402585 for your quotation for domestic roller shutter installation in Liverpool, or the surrounding areas.
We removed and dismantled the old timber door and left it with the customer to dispose of. We then wasted little time and proceeded to install the brand new residential roller shutter door. The installation took our team just 3 hours to complete and the customer was really happy. Take a look at the brand new installation below! Upon completion of the new residential roller shutter in Liverpool, the customer noted how much of a difference it has made in regards to safety and security. Further benefits of domestic shutters include reduced energy bills, noise reduction, easier to access, and much better for weather protection.
This latest installation is one of many that we have completed in Liverpool. We were really pleased with how this latest job went, from start to finish, and the customer even recommended us to their neighbour who was looking for a new domestic roller shutter for their own garage. We sorted out a quotation for them and have scheduled them in for an installation in the coming weeks!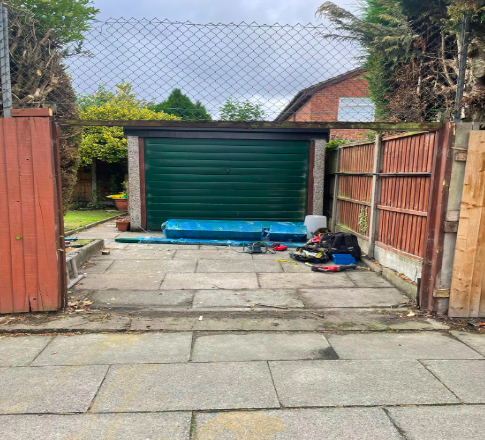 Why Choose UK Doors & Shutters?
Looking for an experienced roller shutter door company that can install high-quality residential roller shutters in Liverpool or the surrounding areas? If so, look no further than UK Doors & Shutters. We are a 5-star roller shutter company that partner with industry-leading suppliers. Whether you require a domestic roller shutter, or any other alternative service that we provide, we are here to help and provide an unrivalled service.
Contact UK Doors & Shutters
Get in touch with us today to request your FREE no-obligation quotation for your residential roller shutter. You can reach our friendly team directly by calling us now on 01204 402585. Alternatively, if you prefer to email, use our online contact form and we'll get back to you as soon as possible.