UK Doors & Shutters are proud to provide a 24-hour emergency call out service. Whether your roller shutters have suddenly stopped working, there's been an attempted break-in or the automated features are not working as they should, we are here to help. For more information regarding our 24-hour emergency roller shutter repair service, please get in touch with us today by calling us now directly on 01204 402585.
One of our very recent emergency call-outs was at Couture Cosmetics in Salford Quays after a break-in. Our team arrived within an hour of the initial call and found that there was extensive damage to the shutter and the bottom rail. We managed to secure the property and arranged a further visit to replace the damaged shutter. This job took us just 35 minutes to complete. Unfortunately, break-ins are more common than you may think which is why it's good that you have a local and reliable emergency roller shutter door company just like UK Doors & Shutters. In this case, the customer got in touch with us immediately in distress - as you can imagine - and our engineers arrived at the premises within 1-2 hours of the initial call.
Since securing the property, our team have already returned at the arranged time to replace the damaged shutters which will now provide increased protection, security and privacy for the business. It will also help to serve as an effective deterrent to decrease the likelihood of further break-ins in the near future.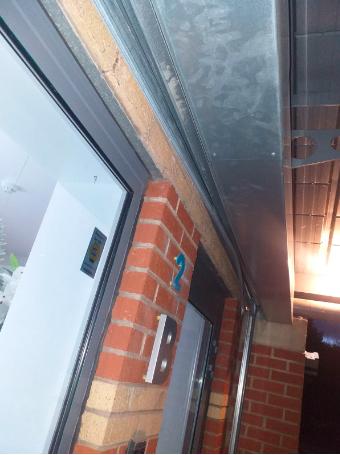 Why Choose UK Doors & Shutters?
Here at UK Doors & Shutters, we are used to being called-out for emergencies all the time in Salford and throughout the North West. In this case, at Couture Cosmetics in Salford Quays, the business owner only realised the break-in when turning up the next day to work as they wasn't previously alerted. As you can see from the pictures, it's only just breaking dawn but that doesn't matter to our dedicated team. We are here day or night as your 5-star rated emergency roller shutter door company.
Contact UK Doors & Shutters
Have you typed in ''emergency roller shutter company repairs near me''? If so, you have landed in the right place. Get in touch with our team for an immediate response and emergency repair by calling us directly on 01204 402585. If it's not an emergency, you can use our contact form.