Here at UK Doors & Shutters, we provide install high-quality insulated garage roller doors throughout Bolton, Manchester, Liverpool, and the whole of the North of England. When it comes to choosing the best type of garage door for your domestic property, insulated garage roller doors should be seriously considered. The wide range of features of insulated garage doors truly make them stand out from the crowd, especially when compared to more traditional types of doors such as the up and over garage door.

in this latest blog post, we will be outlining all the individual features as well as the main benefits of choosing insulated garage doors for your property.
The Best Door For Insulation
It's no surprise that the roller garage door is the best insulated garage door out there on today's market. When installed correctly by experts such as UK Doors & Shutters, insulated roller garage doors can drastically decrease energy bills. This is because roller garage doors are generally manufactured from aluminium or steel panels which are high in strength and well-known for providing outstanding insulation benefits. These type of doors leave absolutely no room for heat to escape in the summer or for the cold to enter in the winter.
Automation Available
You'll be pleased to know that with insulated garage doors, you will also benefit from industry-leading automation. Just like many modern-day garage doors that we install, automation is available and easily integrated with UK Doors & Shutters. The convenience of automation within these types of doors is growing rapidly and will allow you to safely open/close your door within the touch of a button. You don't even have to step out of your vehicle for the automation to work effectively. You can close the door from within your vehicle!
Space-Saving Capabilities
Another major benefit of insulated garage doors is without a doubt the space-saving capabilities. Roller garage doors open upwards and not outwardly and therefore providing unrivalled space-saving capabilities. Because of this reason, roller garage doors are particularly beneficial for homeowners who have 3-4 vehicles to fit on their drive at any given time. So you can say goodbye to visitors and family members having to park on the edge of the street or even around the corner is some circumstances. Roller garage doors are superior when it comes to energy and space-saving capabilities.
Materials
The main materials that are used to construct roller garage doors include steel and aluminium. Insulated roller garage doors are generally manufactured from corrosion-resistant aluminium slats that are available in a number of different colours to suit your bespoke requirements. Popular colours include, brown, green, black, and white. The robustness of aluminium means that roller garage doors are virtually maintenance free and are unlikely to need repairs throughout the years to come.
Ideal For Home Offices
As roller garage doors are fully insulated, they make for a much more comfortable environment which is beneficial for home offices, home gyms or any other garage type conversion where you're going to be spending more time in this area. Having an insulated garage door means that the heat will be preserved within the summer months and the cold will be kept out during the colder months, therefore creating the perfect environment all-year-round. Another positive is that you will be doing your best to help the environment, as well as saving bills simultaneously!
Simple To Install
Insulated roller garage doors are extremely simple to install whilst causing minimal disruption. Especially when you go with a quality company just like UK Doors & Shutters that cover the whole of the North of England. From the initial installation through to ensuring that automation is working to full effect, the roller garage doors is one of the easiest doors to install for our highly-experienced engineers. We are installing them all the time! Even long after they have been installed, they are really easy to use and preserve. The smooth operation also means that repairs and on-going maintenance is much less needed, especially when compared to other door types.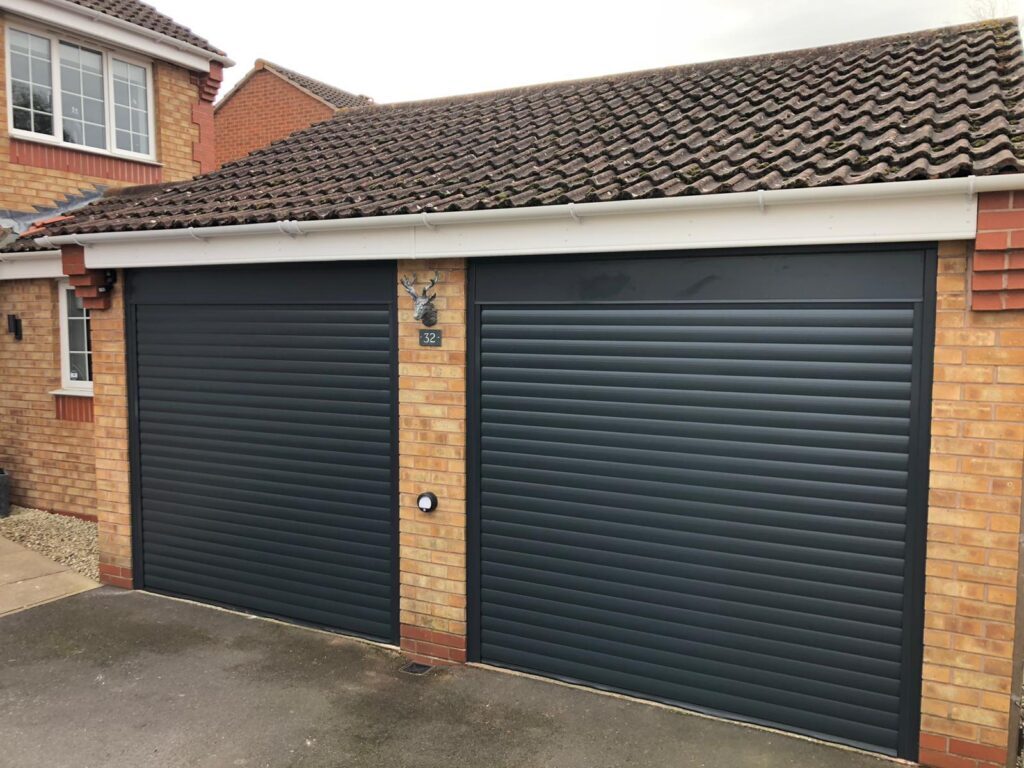 Contact UK Doors & Shutters

Are you looking to get started with selecting your bespoke insulated roller garage door? If so, it's really easy to get started. Get the process started today by calling our highly-experienced engineers on 01204 402585 or if you prefer to email, please use our online contact form and we'll get back to you promptly. We are proud to be your 5-star rated insulated roller garage door installers.