Here at UK Doors & Shutters, we provide steel and aluminium industrial roller shutter doors throughout Bolton, The North West Of England, and further afield. We are able to supply a wide range of industrial roller shutters to ensure that they suit your bespoke preferences. Industrial warehouses and factories are homes to an abundance of expensive equipment, stock, machinery, and other assets. Warehouses and factories are also commonly exposed to the outdoor elements and therefore require more weather protection than the standard commercial building. The good news is; UK Doors & Shutters can provide you with exactly what's required.
Key Features
Industrial roller shutters doors are particularly ideal for warehouses, factories, loading bays, and they are also regularly used in agriculture. They are often manufactured from Galvanised Steel as this is the best quality of material for durability. Galvanised steel adds a permanently-bonded tough coating and generally has a long lifespan with little maintenance required for the material to be kept in good condition. Moreover, industrial roller shutters are predominantly available with electric operation as manual operation is more or less a thing of the pass in this day and age. Furthermore, there are a number of different lath types to select from which include solid, perforated, and punched.
If you aren't sure on the best type for your premises, don't worry, our experts are here to help and suggest the best type of lath for maximum protection.

With industrial roller shutter doors supplied from UK Doors & Shutters, there are also a number of different colours to select from. Popular and regularly selected colours available include black, white, green, and grey. Other colours to select from include blue, brown, red, and mahogany.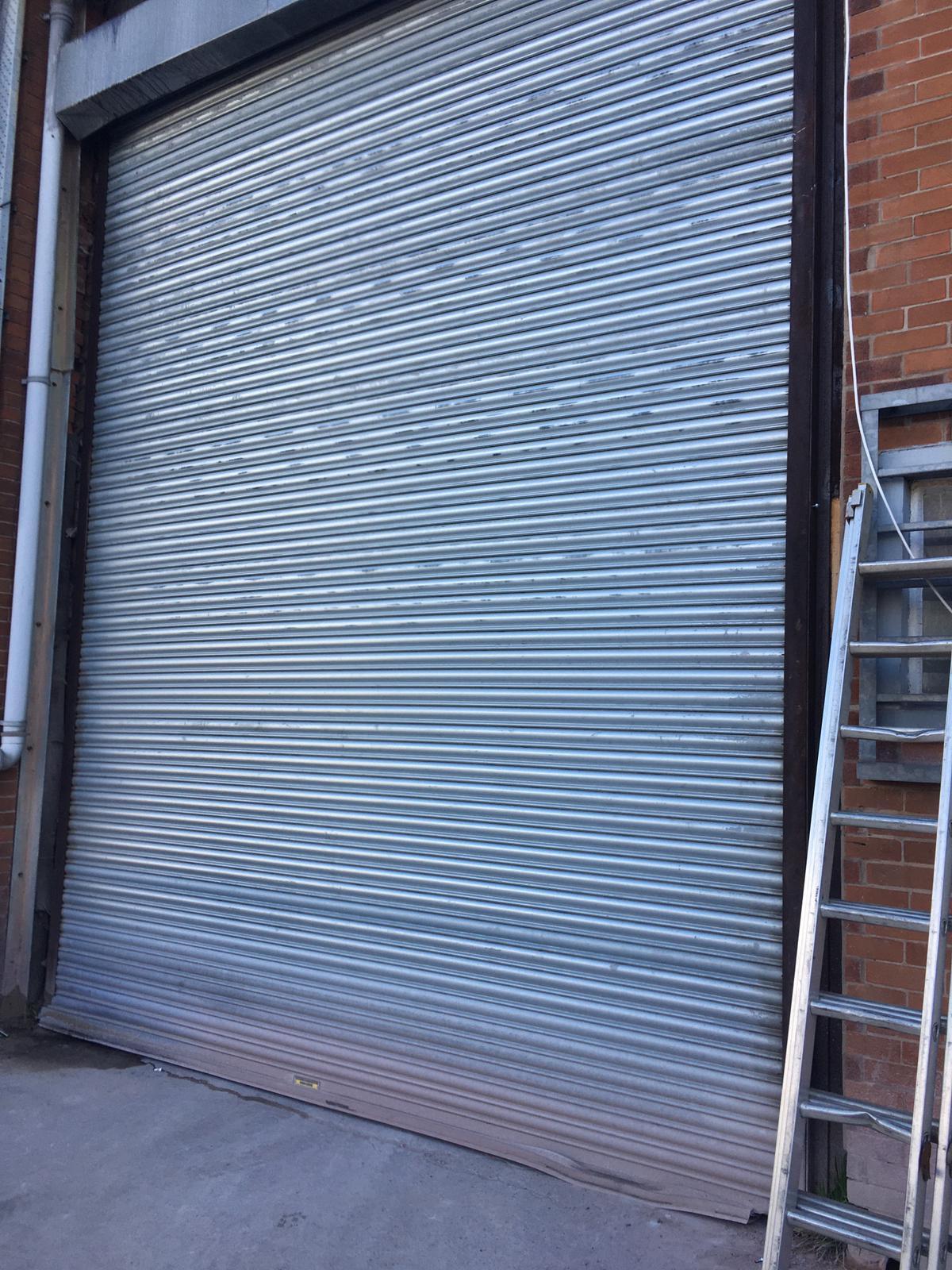 Industrial Roller Shutter Doors - Benefits
If you're looking for an industrial doors that provides all the benefits you need to run a successful operation whilst also prioritising safety and security, industrial roller shutters doors are without a doubt the best option.

Main benefits include;-

• Security - Industrial roller shutters doors are incredible for security (both for pedestrians and vehicles). In fact, this is perhaps the number one reason why businesses choose these types of doors. Industrial doors add that much-needed additional layer of protection that acts as a deterrent, preventing potential burglars of thieves from even attempting to interfere with the contents of your property.

• Efficiency - Industrial doors are highly efficient and as they are electrically-controlled, they are only used when sensors are triggered by your employees or workers. This helps to make your business operations highly-efficient, as well as helping you to save money on energy bills.

• Weather Protection - Warehouses and factories are typically more exposed to the harsh outdoor elements but thanks to industrial doors, you will benefit from more protection from the elements than standard doors. These doors will provide fantastic protection from harsh wind and rain whilst helping to preserve your internal temperature and conditions.

• Fire Protection - industrial roller shutter door also provide fantastic protection against potential fire outbreaks. Unlike traditional wooden doors, industrial doors actually help to contain fires and stop them from spreading rapidly throughout your warehouse or factory, therefore buying time for the emergency services to arrive.

• Privacy - Business operations require a degree of privacy and industrial doors provide exactly that. They provide privacy in terms of soundproofing your property, and also visually by preventing observation of activities inside your premises when the doors are completely shut.

• Maximise Space - Another benefit to consider is the fact that industrial doors help to maximise space for your warehouse or factory. These doors open vertically, unlike your standard doors, and therefore helps to increase the usable space of your premises to its maximum capability.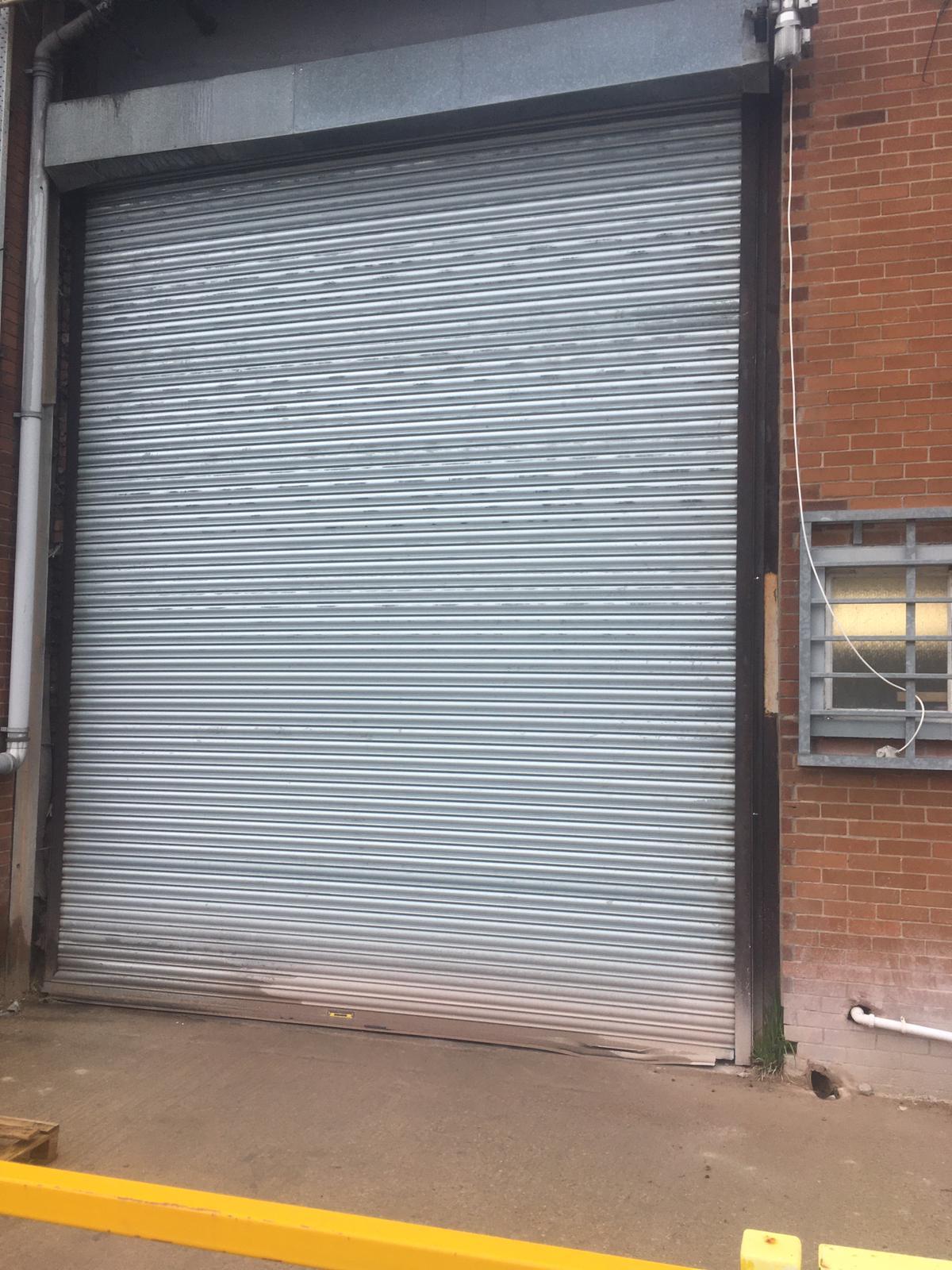 The Installation Process
Once you have decided that industrial roller doors are the perfect choice for your business, our team at UK Doors & Shutters will offer a FREE consultation where we'll discuss your requirements, colour preferences, finishes, and further details. Once all that is decided on, we will then arrange for the supply of your bespoke door and also proceed to arranging a day and time for installation at your premises. For warehouses and factories, we highly recommend choosing galvanised insulated roller doors to reap all the possible benefits that roller doors offer. Our highly-qualified engineers are expert in installing roller doors and have successfully completed hundreds of installations throughout the UK.
Contact Us Today
Ready to get in touch with us and receive your no-obligation quotation? If so, it's really easy to reach out team. Simply call us on 01204 402585 or if you prefer to email, use our online contact form. We install industrial roller shutters doors in Bolton, Liverpool, Manchester, Wigan, throughout the North West and further afield. Moreover, we are proud to be a 5-star rated industrial door company that's fully committed to providing an excellent service that meets the expectations of all our customers.