Here at UK Doors and Shutters, we offer first-class roller shutters in Accrington and the surrounding areas. We specialise in all things roller shutters and are proud to present our services in the local area. Over the past decade, we've developed a strong reputation in the area of Accrington, servicing thousands of customers and we absolutely love it. Testament to this, is the hundreds of 5 star reviews we've received which can be found on our website and social media channels. We think we've been able to accumulate all these reviews because of the amazing staff we have here. Their efforts in customer service are second to none. As a company we aim for perfect delivery of a project every single time and always offer a multitude of options for the client to choose from.
''A very good, reliable and honest company to deal with. They acted very quickly on my call, were very professional and efficient. I would highly recommend'' - Robert Shirley
Get in touch with us today by calling 01204 402585 or using our simple contact form.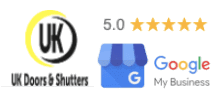 The quality of finish for the bespoke roller shutters from the Lancashire town of Accrington are made from 22 gauge galvanised steel. Also fabricated from this form of galvanised steel are the guides, canopies, flags and L rails, to which all of these have long life-spans, efficient working cycles, all to which should promote your trust in investing into these roller shutters. The most popular finishes to these roller shutters are coloured/powder coated finishes and we offer an extensive selection of RAL or BS4800 finishes to please customer needs. Having the opportunity to promote and sell a contrast in variety of finishes excites our customers and we see it as a pleasure.
Manual roller shutters are usually locked by bullet or lath locks. Rocker switches, key switches or popular remote controls operate electrically operated roller shutters. We also offer an insulated 100mm roller shutter lath, ranging from domestic to heavy-duty industrial lath: maximum width 8.0m wide. What's more, is that for domestic roller shutters we offer an aluminium foam filled lath in either a 77mm or 38mm deep profile with a range of colours. Security is crucial, so all our products are of the highest quality in this respect. The last thing you need is to be broken into because of a lackluster lock. Have peace of mind that we've got you covered.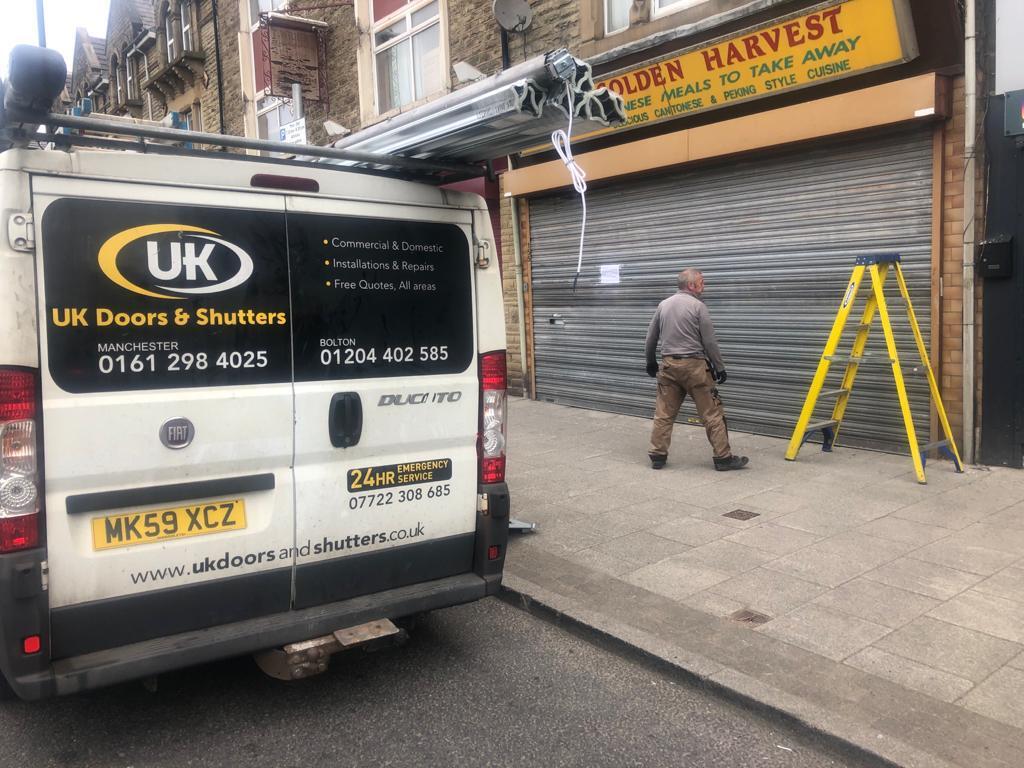 Our operatives are experienced and skilled in the installation process, and have extensive knowledge of our product offering, meaning you'll always find the perfect solution for you. We consider your budget, objectives and the potential risk requirements before formulating a variety of options to suit your needs - never leaving any stone unturned. It is of paramount importance to us to ensure the job is carried out as efficiently and effectively for you. We understand that no two people are the same, so no two projects can be.
We are an Accrington-based company with a strong and established reputation. We are confident in our ability to provide quality results and a professional standard of customer service. You can guarantee we will always go that extra mile and there is no question that our shutters and doors' are of the highest quality.
Commercial & Domestic Roller Shutter Fitters in Accrington
Here are a few reasons why we're the experts you need: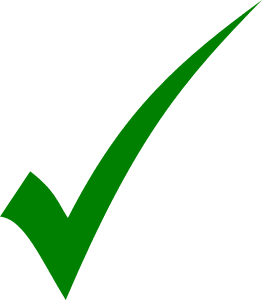 Automated Settings Available.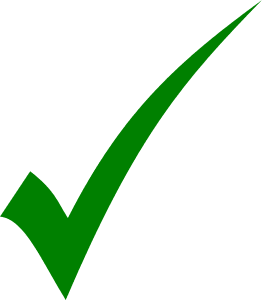 Installations, Repairs & Servicing.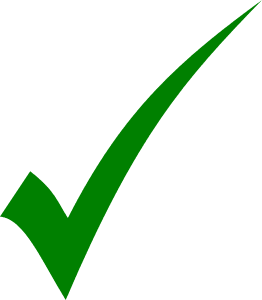 24/7 Call-Out Service For Emergencies
We provide a range of roller shutters available to suit your specific needs and requirements including:
Examples Of Our Work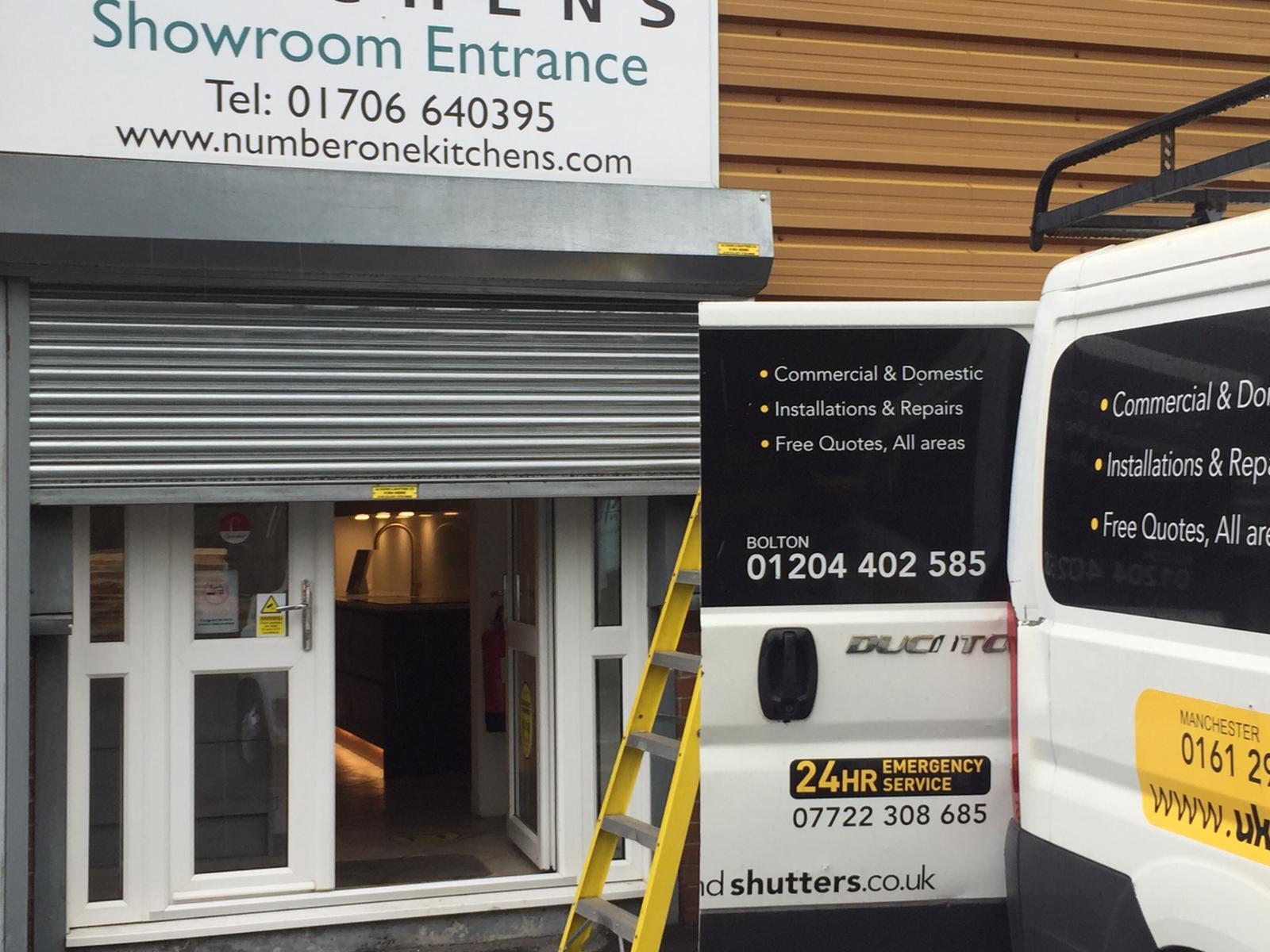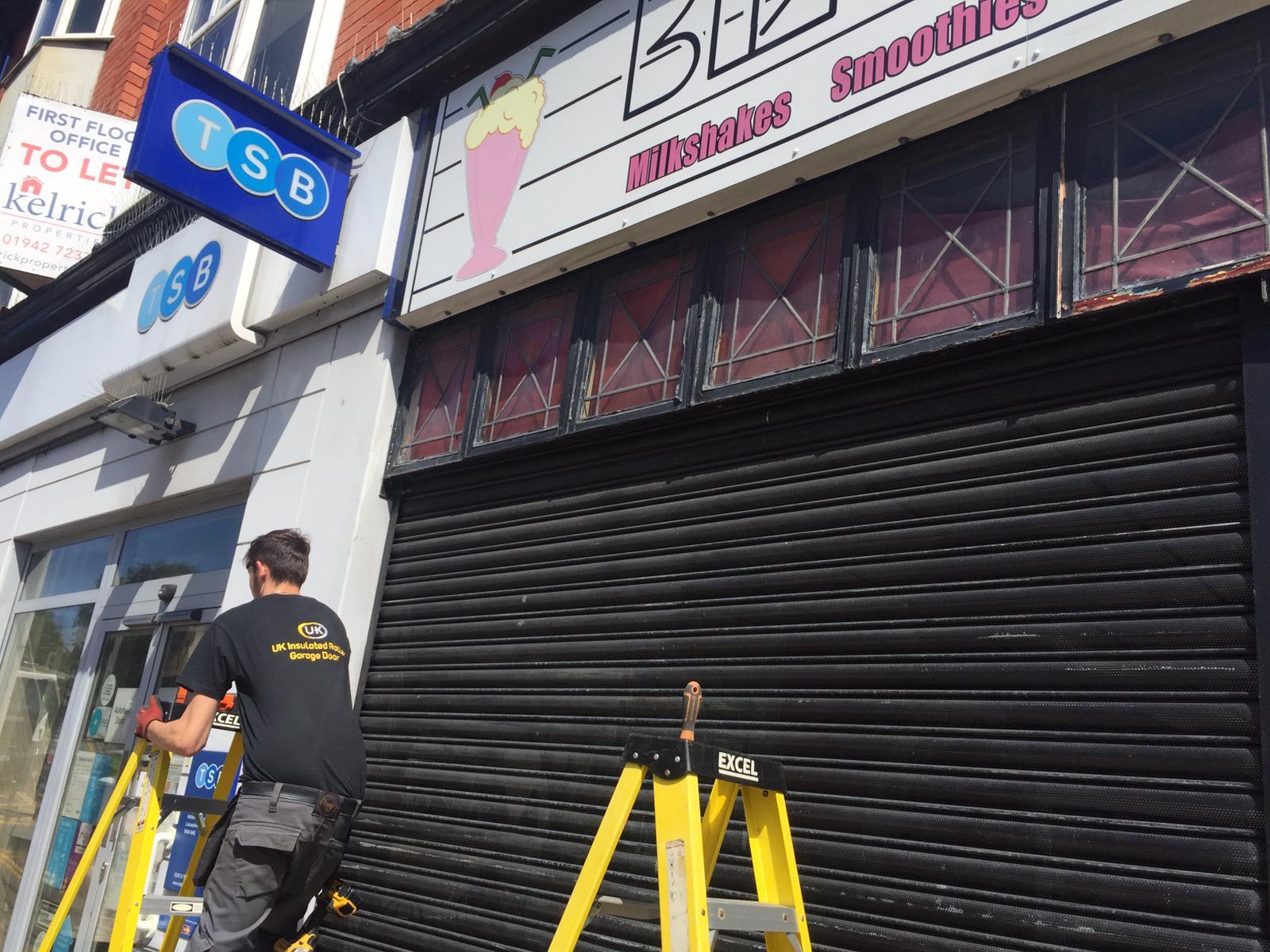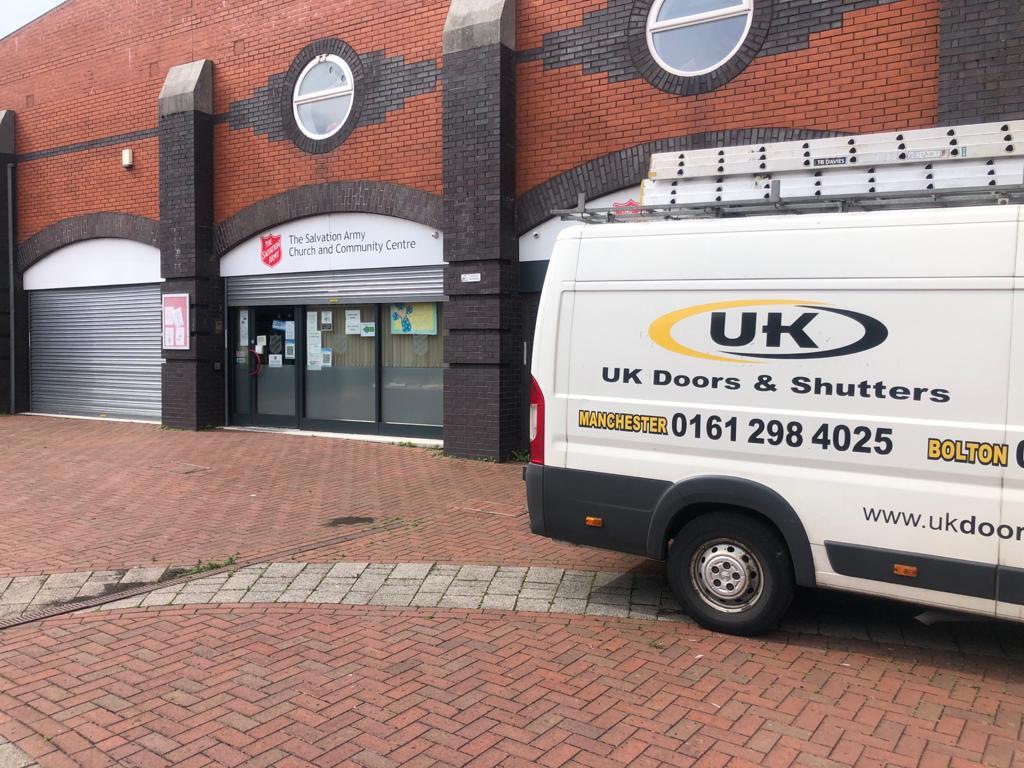 Benefits of Roller Shutters Accrington
If you value your security, which we're sure you do, we'd highly recommend a roller shutter from us. A hard-wearing and durable material roller shutter from us gives you peace of mind that your building, premises or establishment has optimised safety. On top of this, roller shutters perform extremely well against all weather conditions including wind, rain, sun or snow and more; they're built to withstand all conditions and last the test of time. Durability is a must.
Roller shutters are not only extremely secure but provide the most ideal functionality for your business or premises. A perfect example of this would be a warehouse with materials, stock or product going in and out all the time via trucks and vehicles. Roller shutters have the ability to make this process so much easier on top of providing security when it comes to locking up at the end of the working day.
Roller Shutter Repairs Accrington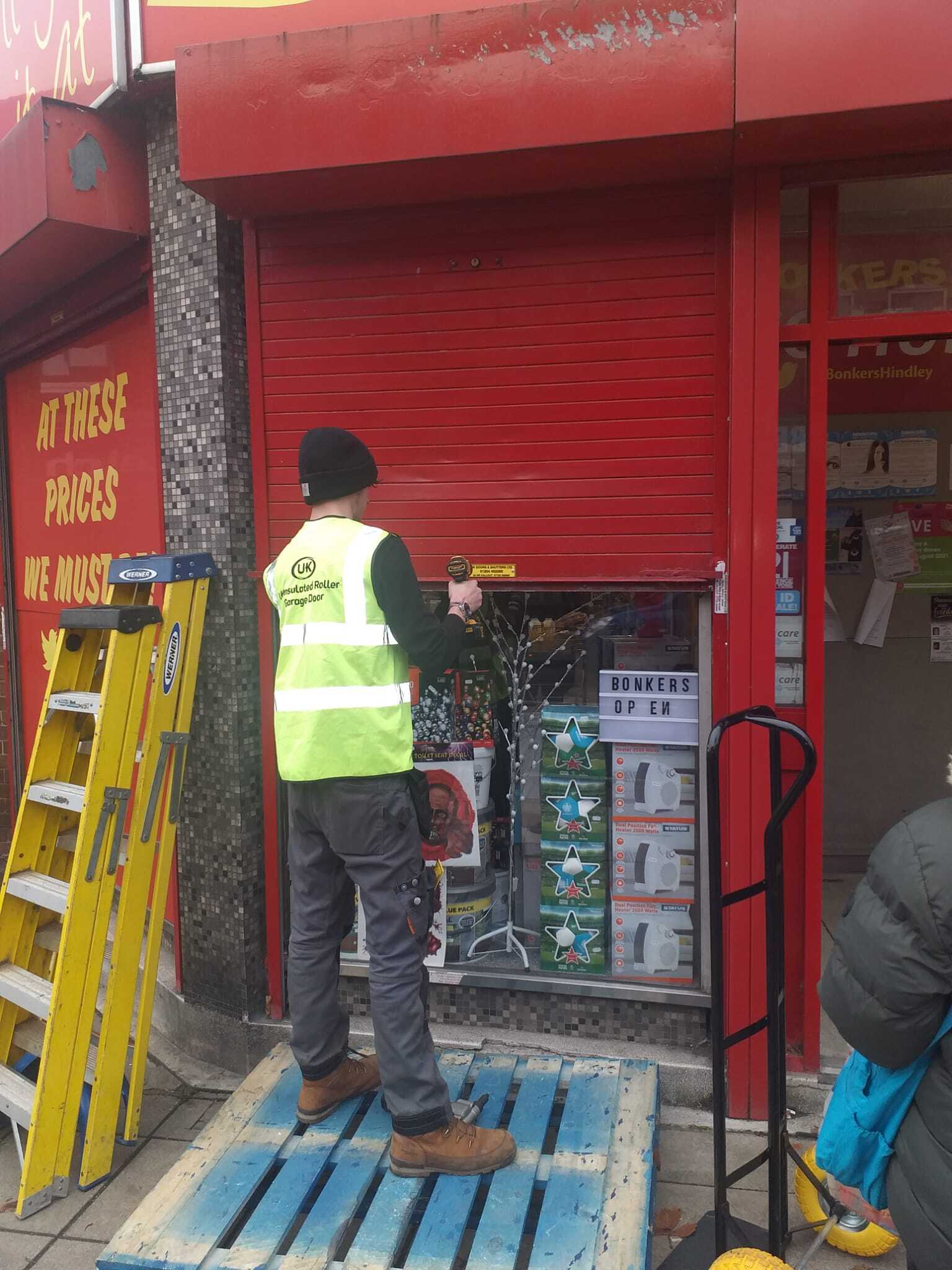 Here at UK Doors & Shutters, we also provide first-class roller shutter repairs in Accrington and the surrounding areas. Our repair service is 24/7 so if you need repairs day or night, we are here to provide a quality service all year round. Some of the most common issues and problems that we are able tor repair with roller shutters include dented roller shutters, issues with proximity sensors, bumped roller shutters, and much more. We are able to offer direct repairs for retail, industrial, medical centres, and across the private sector.
Contact Us Today
If you're interested in finding out more about how we can help you or your business, feel free to get in touch on 01204 402585 or send us an email or message us on social media. We can assure you that someone will be in touch with you as soon as possible. UK Doors and Shutters install the best roller shutters in Accrington! Furthermore, we also provide roller shutter repairs and servicing.