UK Doors and Shutters provide roller shutter repairs in Leigh and surrounding areas. Supplying, installing, and repairing roller shutters is what we do and we can assure you we do it well. Our specialist area actually repairs in Leigh and we've served so many people in their hour of need. We understand that your operations are crucial and cannot be disturbed, so we actually offer a 24/7 repairs service. We make it our mission to ensure you're back to normality in the quickest time possible. We have many fantastic engineers ready to go at the click of a button so call us when you need us!
If you require emergency roller shutter repairs in Leigh, please call us directly on 01204 402585 or use our contact form to arrange your call-out.
A very good, reliable and honest company to deal with. They acted very quickly on my call, were very professional and efficient. I would highly recommend - Robert Shirley
We know just how inconvenient it is when things go wrong with your roller shutters. For that reason alone we ensure our operatives are on hand to fix the issue you may be having. It's important to get those issues sorted as soon as you can because otherwise, they may turn into more difficult problems. We mean this when we say; whatever the type of fault that you need repairing, you can truly rely on UK Doors & Shutters Leigh.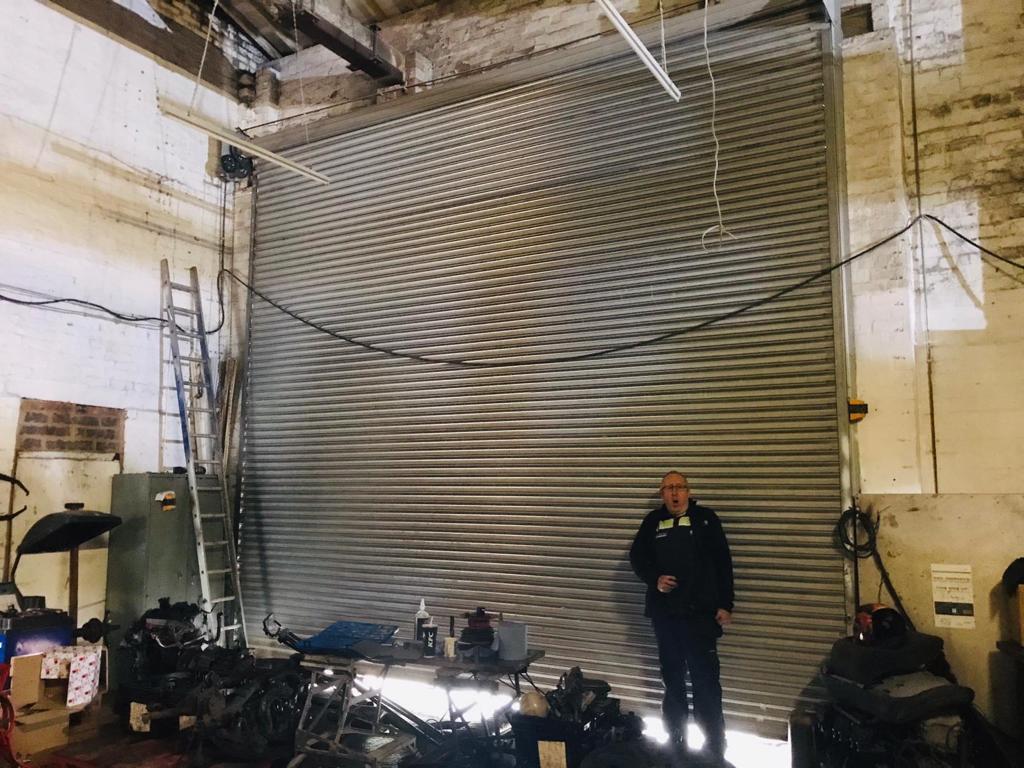 Competitive advantage is important to us so we've worked hard to develop our 24/7 repairs service. There's a whole host of reasons why keeping your roller shutters operational is important and we know this - hence our amazing service. Our team has a wealth of experience and knowledge in roller shutter development, installation, and repairs and it's a joy to be able to help people when they need it most. The quality of our work is exceptional and we'll always leave our workspaces clean and tidy whilst performing tasks in an efficient and hassle-free manner.
On past projects, we have repaired roller shutters for many types of industries and business types so there isn't much we haven't been able to fix. These businesses include the likes of supermarkets, stores, warehouses, factories, and more. On top of offering comprehensive repairs for roller shutters in Leigh and throughout the North West, we are also able to offer emergency repairs for the following types of doors:
Industrial Doors
Steel Doors
Sectional Doors
Rapid Roll Doors
Automatic Doors
And Many More
Roller Shutter Repairs Leigh
Making sure that your valuables, belongings, and assets are safe and secure is extremely important and that is something we are fully on board with. Often, roller shutters are the first line of defense before giving someone the opportunity to break in.
Having a solid, locked structure in front of a potential burglar makes them think twice. The point is, if there is a problem with the roller shutter in Leigh, you need to make sure it's taken care of asap. Some of the most common types of faults that we repair include:
Shutters won't shut - If your shutters are not closing properly, then there is clearly something wrong with them and they require attention immediately. You need to ensure they close properly to know your property is secure. If you're experiencing issues after switching the power source off and on, then we can provide the best repair solution in Leigh.
Sticking shutters - You definitely don't want sticky roller shutters so if yours are doing this then it could be a lubrication issue which we'd be more than happy to deal with. We experience this all the time and offer a direct repair solution.
Shutter deterioration - You may notice some cosmetic issues with your roller shutters that need to be fixed to make your roller shutter more aesthetically pleasing and also deter any future issues arising. Dents, scratches, and gashes all need to be looked at as soon as possible.
24/7 Repair Service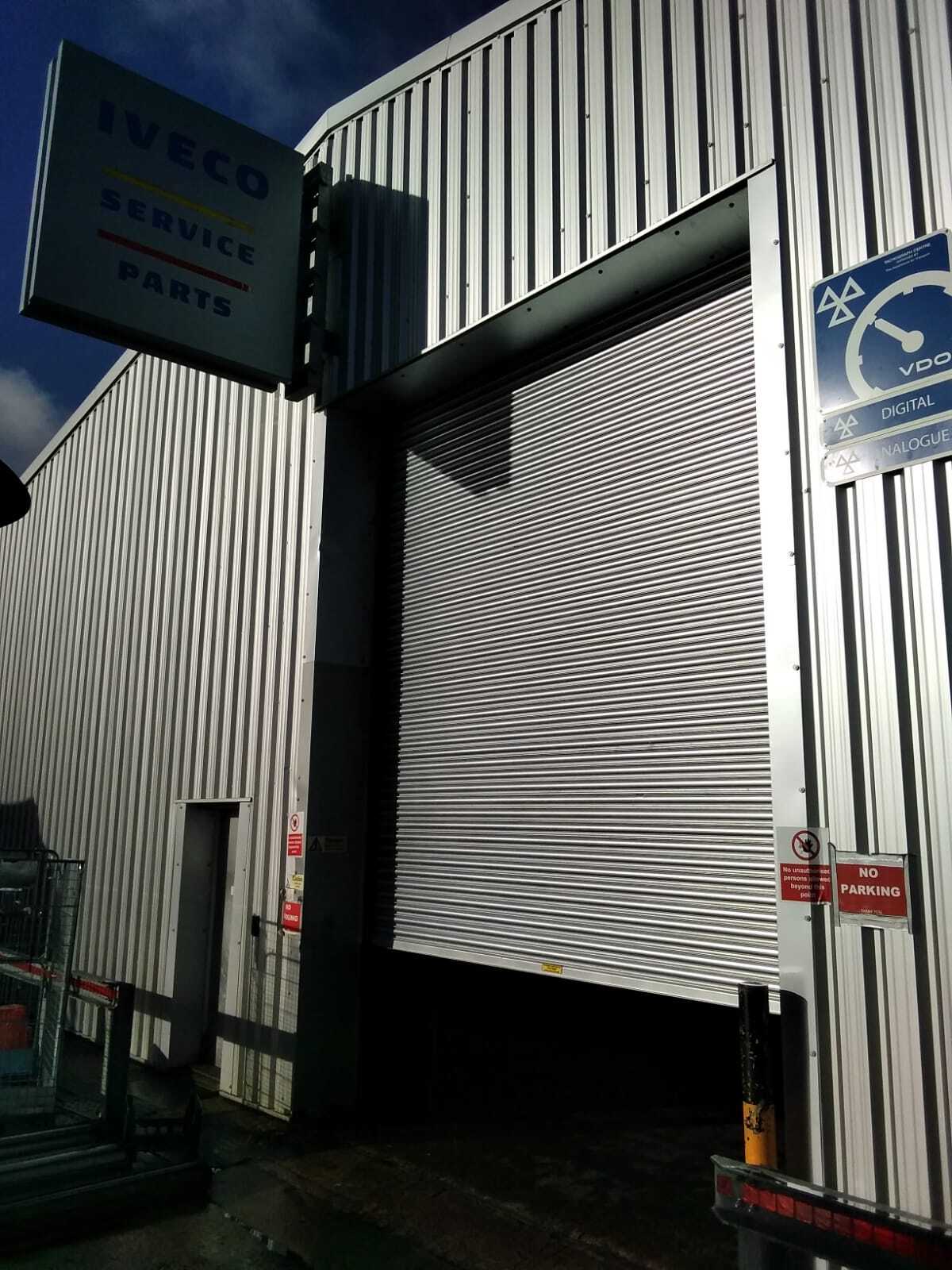 As mentioned our repair service is 24/7 in Leigh so that we're always available to pick up your call and come repair your roller shutter. Your roller shutter might be refusing to open, might be sticking when trying to open, or have a large dent in it. Either way, we will be on call and readily available to help. When it's an emergency you can always count on UK Doors and Shutters Leigh. Our roller shutter repair service ticks every box and is essential for peace of mind.
Here are some other benefits you'll receive when you select UK Doors & Shutters Leigh:
• 24/7 emergency cover
• Industry-leading equipment
• Fully qualified engineers
• Free quotations
• Affordable prices
• Outstanding customer service
Roller Shutter Upgrades Leigh
We don't only just do repairs though, we also provide brand-new high-quality roller shutters. We source, install and service roller shutters from brand new just in case your current one is irreparable. Roller shutter upgrades are available in many different styles and colors and in an array of brands too so you'll never be short of choice. Our team at UK Doors and Shutters Leigh is able to offer upgrades for all aluminum and steel roller shutters and all comply with the latest regulations.
Contact Us Today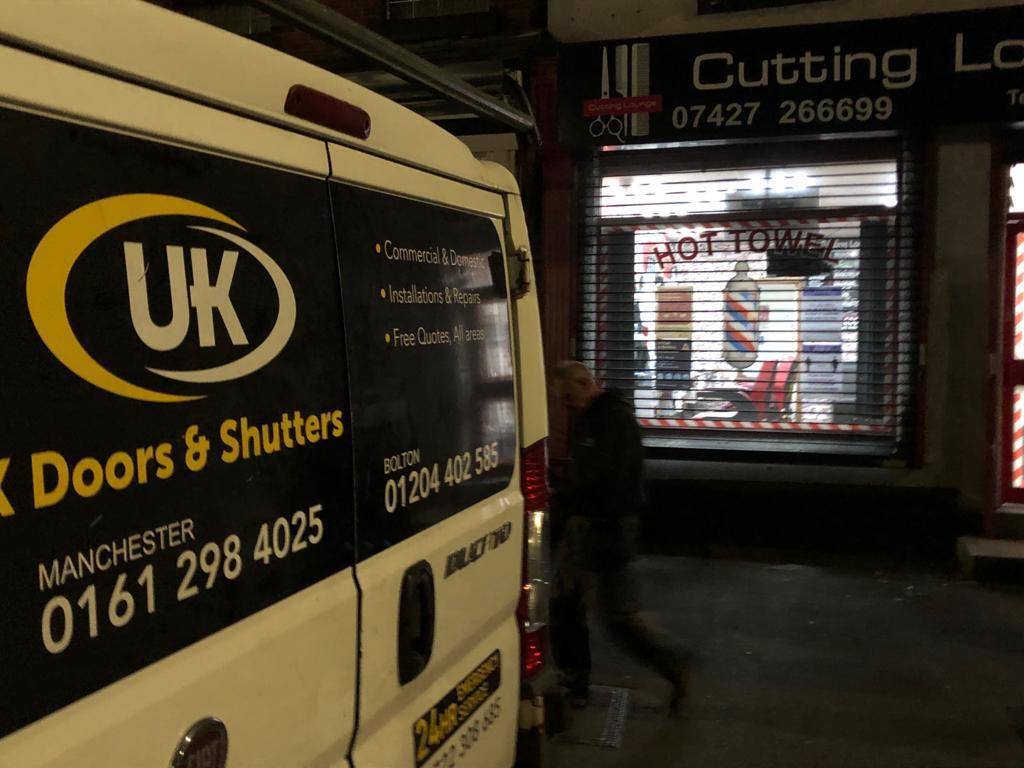 If you are reading this thinking you need some emergency roller shutter repairs then please don't hesitate in contacting us via a number of different ways. The most responsive way is by a phone call on 01204 402585 but we are also active on social media and monitor our website form too. We hope to hear from you soon here regarding roller shutter repairs in Leigh.