Do you require roller shutter repairs in Bolton?
Here at UK Doors and Shutters, we're open 24/7 and ready to take your call for emergency call-outs. That means that 365 days a year, we're reading to operate and get your roller shutter door back to full capacity. Our team are fully experienced and trained to deal with different types of damage with roller shutters.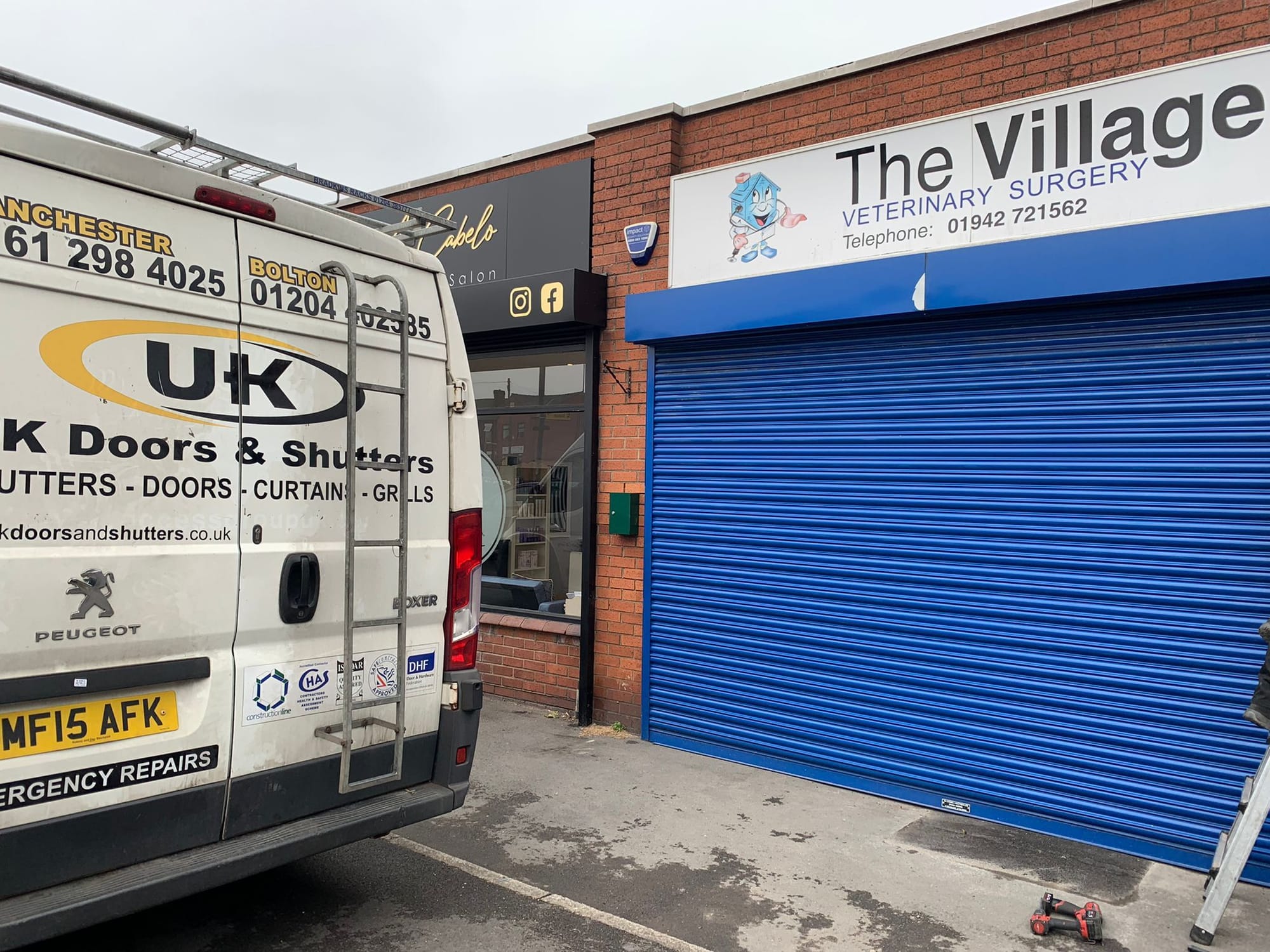 Whether it's vandalism, burglary, accidental damage, or another operating failure., our emergency roller shutter repair team is on standby 24/7 throughout Bolton.
All calls are logged allowing for total control, in addition, our systems are designed to allow for auditing any site over a 5 year period.
Our fleet of highly experienced engineering teams covers the whole of the UK.
All our vehicles are fitted with the latest tracking devices which can be accessed locally and remotely, allowing for an accurate estimated time of arrival and to ascertain which engineer is best placed to respond.
As well as offering comprehensive repairs for roller shutters in Bolton and throughout the North West, we are also able to offer emergency repairs for the following types of doors;-
Industrial Doors.
Steel Doors.
Sectional Doors.
Rapid Roll Doors.
Automatic Doors.
And Many More!
Roller Shutter Repairs Bolton
Roller shutters are typically built to be long-serving, durable, and to be able to contend with the harshest of weather conditions. However, they aren't indestructible and from time to time, repairs may be required. Some of the most common faults and repairs that we undertake on roller shutters include the following;-
Overheating - This is one of the most common issues that we get called out for at UK Doors & Shutters. Roller shutters are generally used to speed up efficiency and productivity in the workplace but when they are overused, overheating can take place and repairs may be required from our engineers.
Shutting Half Way - If your roller shutters are only shutting halfway, we urge you to get in touch with us as soon as possible as it's likely that this issue will worsen. When shutters are only shutting halfway, it's likely that sensors have interfered with that can cause a serious security issue to your business.
Shutters Not Closing - One of the main issues that can cause a serious security threat to your business. When shutters don't close at all, business assets and goods are a serious risk. If you notice your shutters not closing, it may be as a result of neglect or overuse.
24/7 Emergency Roller Shutter Repairs Bolton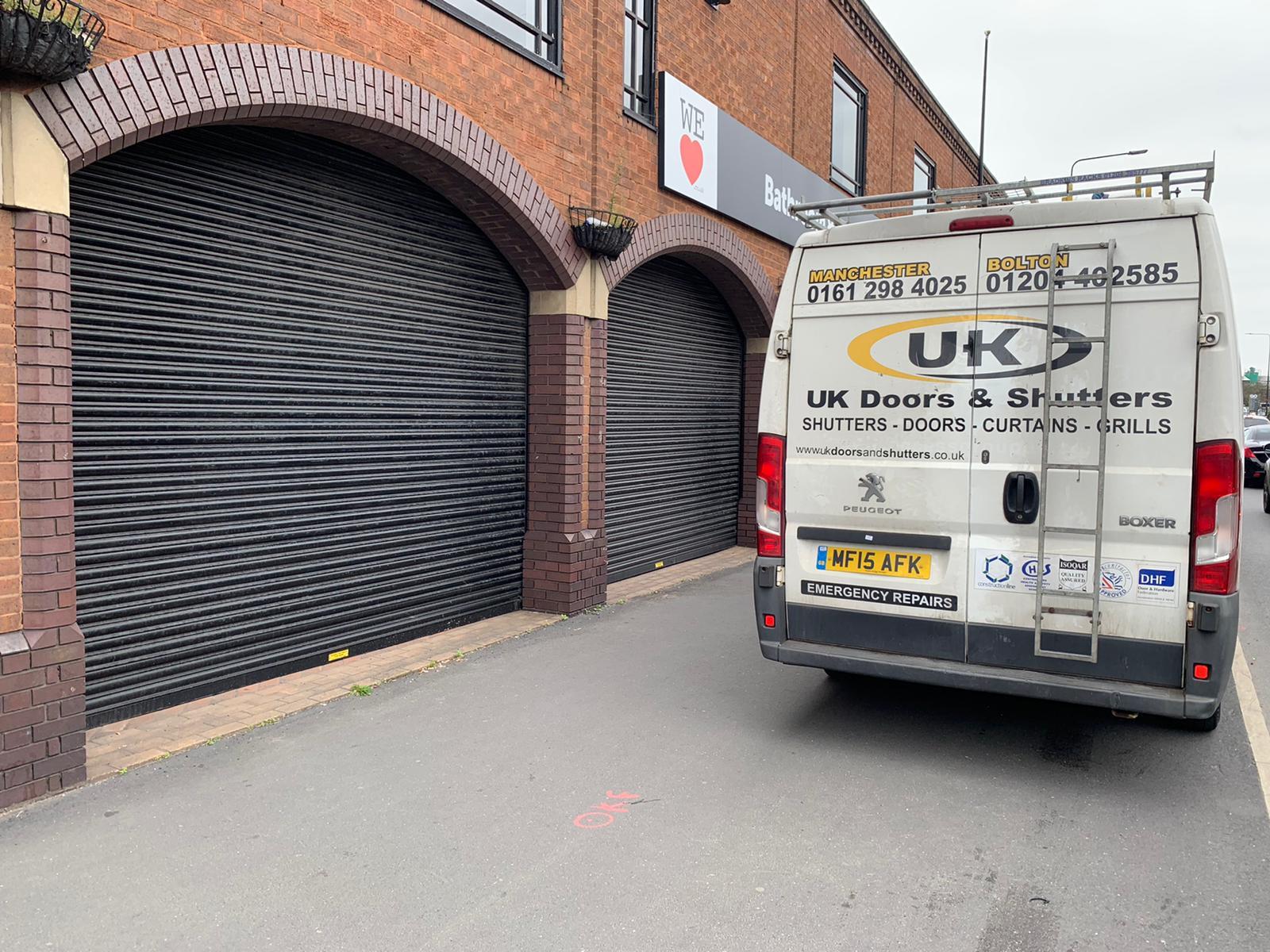 Here at UK Doors and Shutters, we understand that it's fundamental to have your business fully protected so you can operate to your full working hours. That's why we're dedicated to offering 24/7 emergency roller shutter repairs nearby in Bolton and throughout the North West.
When you work with us, we can guarantee that we'll be sending experienced engineers that specialize in fixing roller shutters day in, day out.
Moreover, all our engineers - when visiting your property - will carry out routine inspections and also keep a fully comprehensive record that will help you provide an update with insurance companies. This is beneficial in case you need to prove that the roller shutter fit meets the latest regulations regarding health and safety.
Here are a few benefits when you work with UK Doors & Shutters:
24/7 emergency cover
Industry-leading equipment
Fully-qualified & dedicated engineers
FREE quotations
Affordable prices
Outstanding customer service
Due An Upgrade?
If you have had the same roller shutter door for several years, you may be due an upgrade. As well as offering roller shutter repairs and installations, we also provide upgrades and direct replacements. Deciding to go ahead with an upgrade can improve your business's security and give you great peace of mind.
Contact Us Today & We'll Be With You!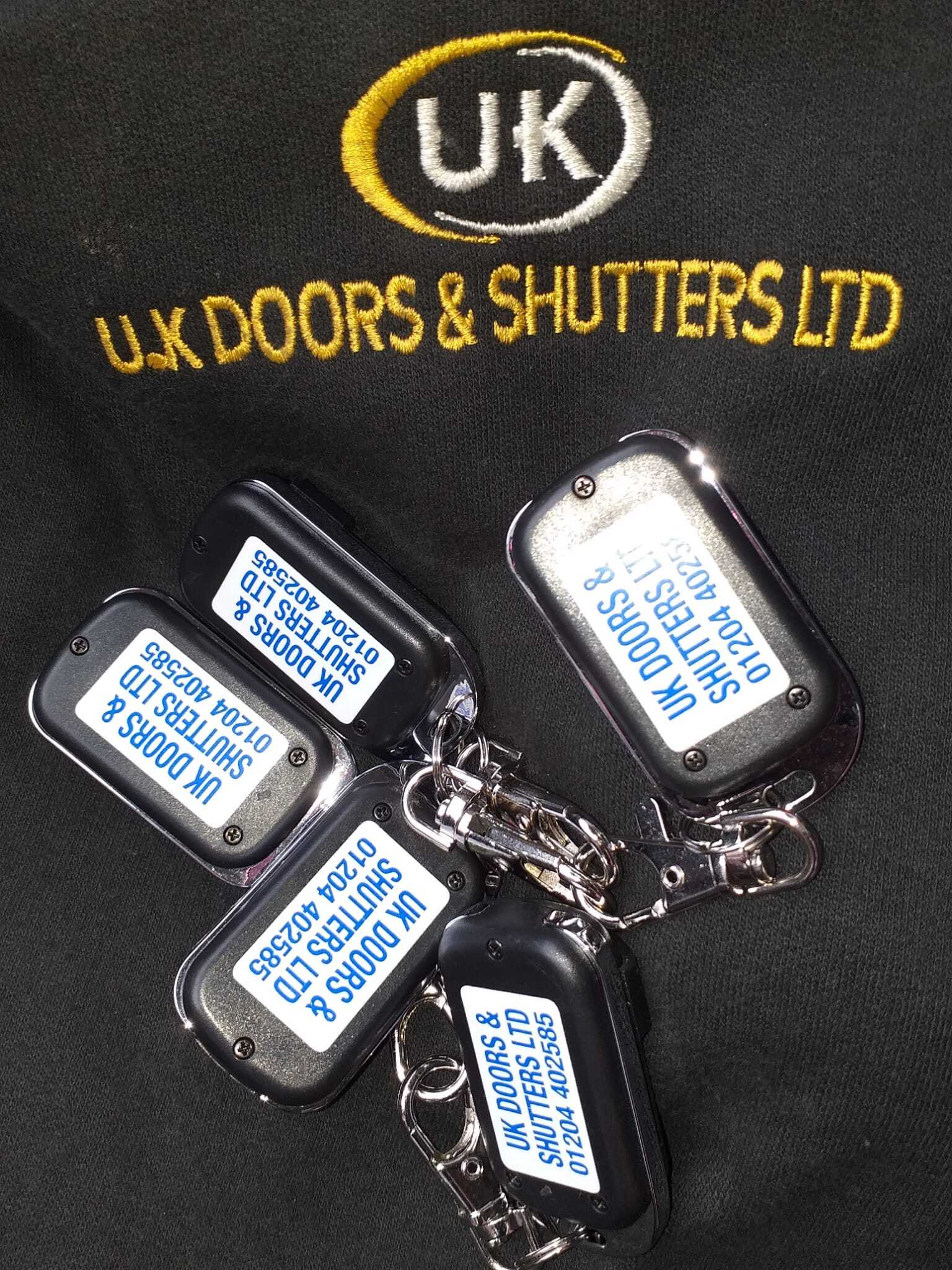 If you need an emergency roller shutter repair in bolton or nearby area, don't hesitate and give us call today on 01204 402585 for your FREE quotation.
You can also reach us on our contact form by clicking here and our team will be in touch with you within 24 hours.